Pearl Goes to Preschool is available for pre-order!
I've always loved painting. My favorite kindergarten memory is of tempera painting at an easel. I have an MFA from Hunter College and my abstract paintings have been in the Whitney Museum of American Art. But for the last 15 years I've been painting for preschoolers and kindergarteners. My first digital paintings were for High Five and Ladybug magazines. It's been inspiring to illustrate Eve Bunting's Pirate Boy, and a series of books by Rabbi Jamie Korngold, three of which are Sydney Taylor Notable Books.
The first books that I both illustrated and authored were The Artist and the King, published in 2014 by Alazar Press, and Lily's Cat Mask in 2017 for Viking. I was thrilled when Lily's Cat Mask received a Kirkus starred review and was added to Dolly Parton's Imagination Library, the amazing program that has sent over a 100 million free books to children.
I love the honest reactions my books get from preschoolers and kindergarteners. Recently, I stumbled on a Youtube of a kindergartener reading Lily's Cat Mask. She read it with so much feeling, even changing her voice to fit each character. It's this kind of response that makes writing stories for young readers so rewarding.
Read about my creative process at Seven Impossible Things Before Breakfast. And watch my painting process below.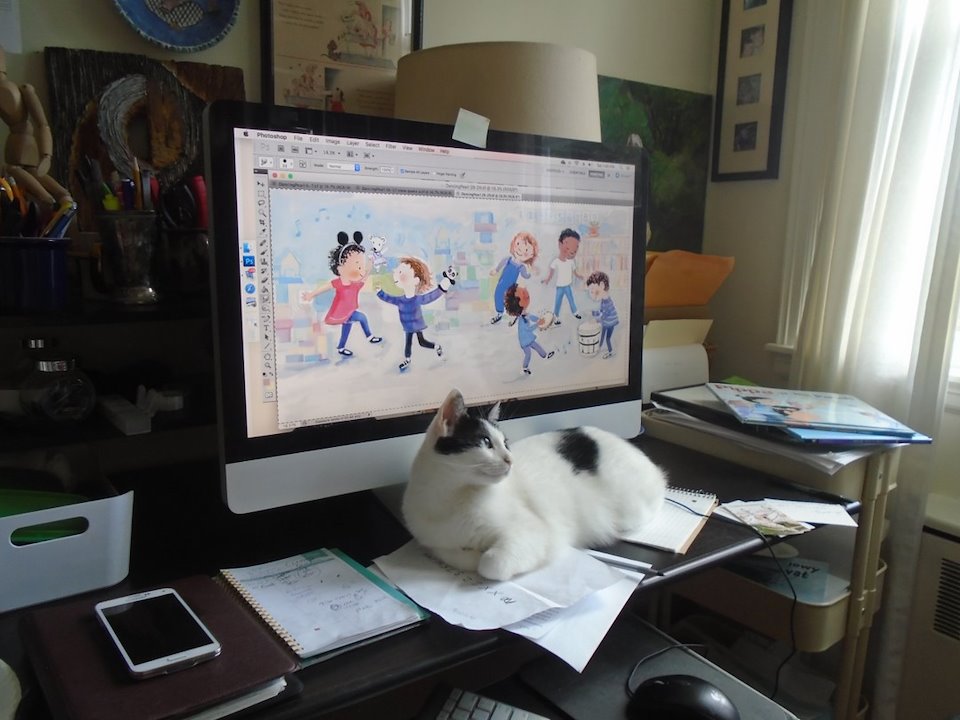 ---
For Bonjour * Hola * Privet * Nǐ hǎo * Ciao * Yā * Hallo * Olá
Up Next:
Pearl Goes to Preschool is available for Pre-order!